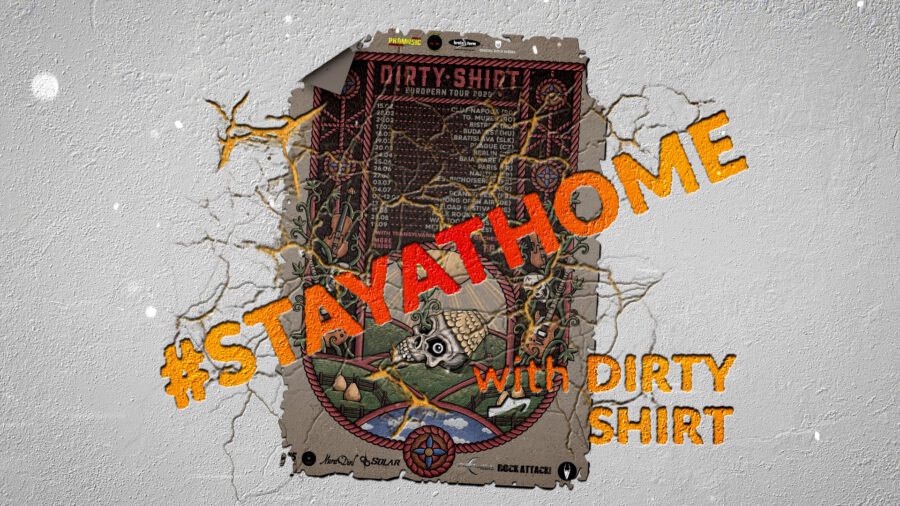 #STAYATHOME WITH DIRTY SHIRT – EP. 01
The cultural and entertainment sectors are amongst the most affected activities by the corona virus crisis. It is also the case for Dirty Shirt, as many of our concerts this year are already canceled and nobody knows when bands can start touring again. The impact for us is more than financial. We believe that live shows are the final purpose of music, allowing us to share incredible moments with pure energy and strong emotions with you, our fanbase. We already miss all of that, but we know that we have to wait before meeting you again. Right now, it is more important for all of us to stay safe and avoid the propagation of the virus.
In this context we decided to start a web-show, entitled "#STAYATHOME with DIRTY SHIRT", broadcasted every Friday evening on our Facebook page. This way we can still share our passion and we can keep contact with our friends and fans all over the world in a virtual form. Surely this will be helpful for us, and maybe this will bring some positive vibes in these troubled times.
Enjoy the first episode, including Latcho Drom: Isolated Violins (feat. Caliu), Palinca Acapella Phone Session, Put It On (Guitar Playthru with Dan Petean) and Nice Song (Live at Wacken Open Air 2019):
During this period, you can support us by becoming a Dirty Patron. There are some nice rewards for you and we promise that we will try to continue to make music and broadcast "#STAYATHOME with DIRTY SHIRT" for as long as necessary: http://patreon.com/dirtyshirt

#staysafe

Dirty Shirt